Well, I finally reordered myself another Inavap vaporizer. I've been using all kinds of other stuff since I broke my last one.
My favorite portable vape is the battery operated magic flight launch box – which is invaluable in crowds, indoors, and places where discretion is key. It's my go-to device at Burning Man because there's no visible flame and barely any smell or smoke (vapor). It comes in a groovy little tin:
It doesn't hit as hard as the VaporGenie, though, which I prefer for all other portable occasions where I don't mind using a lighter. I've actually got two of them, now – the second hand carved model I ordered directly from the manufacturer and I highly recommend it.
Been using various bongs with various clogged and crappy stems. Also various glass pipes and my wooden pipe that I found somewhere online; it looks sorta like these: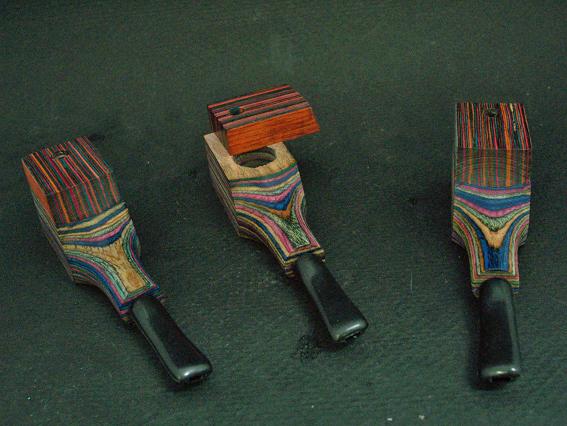 Got a home vaporizer, the Vapormatic deluxe, which looks like an old school toaster sitting on my stove:
It's okay. I like it because you can choose from fan driven inhalation tube or balloon bags. I don't like it because it is noisy and the temperature varies wildly so every so often I char the product into ash. Kinda defeats the purpose.
That's why I dig the Inavap so much – it's quiet and the temperature is stable. The top of the unit does get hot, though, so you learn quickly enough to hold it from the bottom. And as I learned before, it is crucially important to keep the brass screw grooves clean so the stem doesn't get stuck to the base. And it's maybe not the best for sharing unless you get extra stems.
But yeah, I've been hitting it all morning. After awhile I decided to take a bong hit because I ultimately prefer the stronger hit of smoking. Gosh, was I disappointed! It tasted TERRIBLE after vaping all morning. I mean, like really, Really, REALLY horrible. So yeah, vaping with the Inavap, while I didn't realize it at the time, is quite super tasty on top of being quiet and quasi- discreet. Did I mention the darn thing looks like a water bottle?